Lots of great businesses started in garages, just as we did back in 2011. After noticing a need in the local market of adventure motorcycle rentals, House of Motorrad started out of our home garage with three bikes and a trailer, delivering bikes to our customers.   With great success and a growing customer base,  we were able to move  out of the garage  quickly and into a space to offer even more. We expanded our rental fleet, began to offer adventure motorcycle gear, parts and accessories, added guided tours, training and mini-classes, offer service, winter-time ski and snowboard tuning, and even threw in a food truck to round our experience out! 
We carry riding jackets and pants from Fieldsheer and FirstGear as well as helmets from Shoei, Arai, Gmax and Fly.  Bike protection features items from Altrider, SW Motech and Barkbusters. We offer luggage from Wolfman and SW Motech, tents from Redverz, and all sorts of accessories such as Garmin GPS, Cardo and Sena communication systems, GoPro cameras, tool bags, oil and filters, headlights, tires, cruise assists, the list goes on and on!  
If you ride an adventure bike or aspire to,
House of Motorrad is the place to get everything you need.
Ben Kriederman – President
Ben started riding things with motors when he was in grade school.  Every morning, his dad would take him out to an Air Force base to blast around for an hour or so before he had to go to school.  That early love of bikes has continued through out his life in the form of anything with 2 wheels.  After working on a PhD in cell biology and in the vaccine development area for a decade, the adventure motorcycle boom and inspiration from shows like the Long Way Down and Long Way Round prompted Ben to start the House of Motorrad in 2011.  His love for travel and motorcycles became a symbiotic relationship when he and his dad headed out on two BMW R1200GS Adventure bikes from Colorado to Argentina.  Their 16000 mile journey can be followed by visiting the Adventuring South blog where they documented in words and pictures, the trip of a lifetime.  Ben's real world experience has brought House of Motorrad into the forefront of the adventure motorcycle scene.  See you at the shop!
Lisa Kriederman – Marketing/Philanthropy/Partner in Mischief
Since 2003 when they met in Tucson, Ben and Lisa have been playing around the world together. A meteorologist for the National Weather Service, her knowledge of weather is a great help to our customers whether they're touring around the Front Range mountains, or heading up into the Pacific Northwest. Besides weather, Lisa's passion is to help those in need – especially in need of clean and safe drinking water. Many long backpacking trips where clean drinking water was hard to find, as well as the motorcycle trip down through South America, really engrained this desire to help in her mind. Therefore she started the Miles for Water campaign through the House of Motorrad. Customers are encouraged to donate money through this campaign which goes directly to Water For People, a charity whose mission is to provide all people access to clean water, adequate sanitation, and basic health services – based right here in Denver. In return for donating, we will provide free luggage on their rental bikes.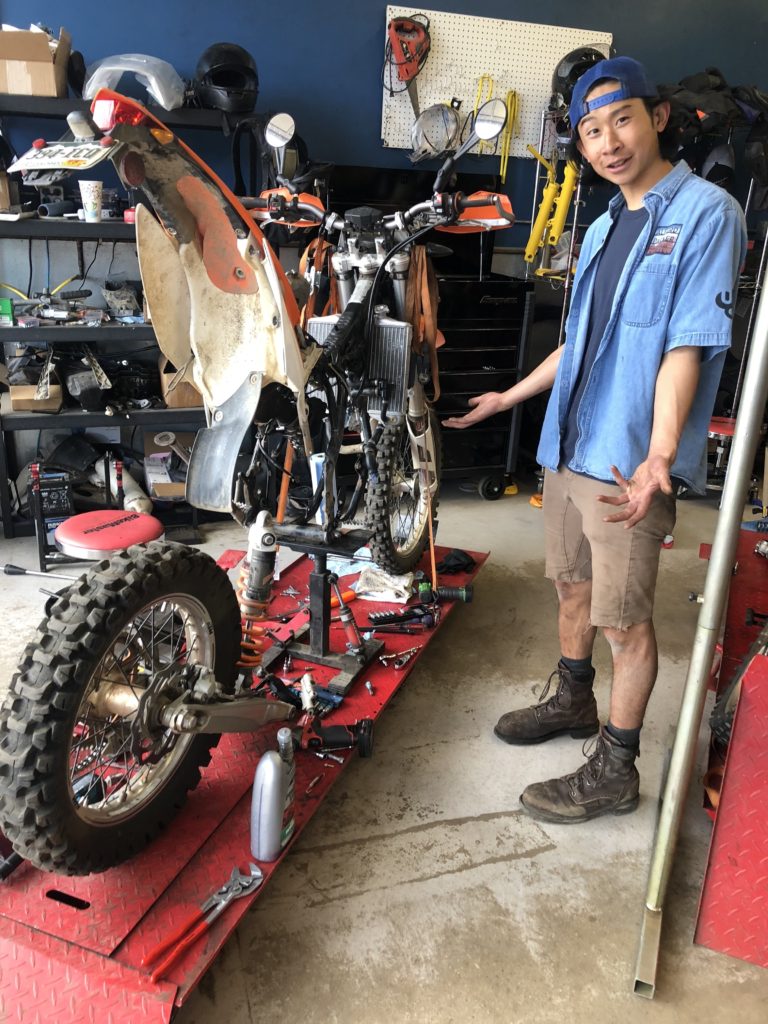 Wes Chow – Head Mechanic
After graduating from CU as a mechanical engineer, Wes came to the House of Motorrad in 2017. His expertise, patience and ability to diagnose even these toughest issues is the reason he became our head mechanic.